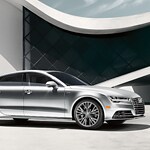 As one of Oxnard, CA's favorite luxury cars, the Audi A7 is larger than life. This urbane ride possesses an enormous stature, and its sizable marketplace influence is especially notable in the realm of prestigious automotive technology.
This deluxe powerhouse is advantageously equipped with sensitive rain and light sensors that trigger automatic responses from both the windshield wipers and the headlights. For the sake of stress-free driving, this instantaneous mechanism performs flawlessly amid a variety of conditions to usher brilliant levels of convenience. Dark nights and stormy days are no match for this exquisite gear.
To encapsulate a completely intertwined mobile universe, this stunning automobile comes with Apple CarPlay alongside Google's Android Auto. Thus, the Audi A7 is prepared to link immediately with almost every modern smartphone. For a more thorough overview of this entrancing Audi production, just swing by the showroom at DCH Audi Oxnard for your personal test drive.